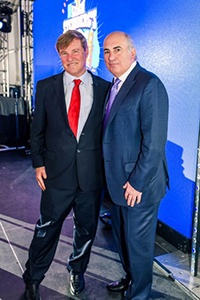 STEINBERG-DENICOLA HUMANITARIAN AWARDS PRESENT AT 31ST ANNUAL LEIGH STEINBERG SUPER BOWL PARTY
Minneapolis, Minnesota set the stage for the NFL's 52-year Super Bowl anniversary and the 31st Annual Leigh Steinberg Super Bowl Party which kicked off at noon on Saturday, Feb. 3rd. The party provided a star-studded backdrop for the second annual Steinberg-DeNicola Humanitarian Awards, honoring members of the NFL family for outstanding contributions to their communities and their fellow man. Described as "the granddaddy of Super Bowl parties," Steinberg's invitation-only charity bash attracts luminaries from the worlds of sports, business, media and entertainment, including Hall of Famers, movie stars, CEOs and politicians.
The Steinberg-DeNicola Humanitarian Awards, created by renowned agent Leigh Steinberg and agency partner Cosmo DeNicola, co-owner of the Arena Football League's Philadelphia Soul, were introduced in 2015 to generate awareness for the positive side of professional football that is often overshadowed or under-reported. The awards recognize the charitable initiatives and personal efforts of NFL team owners, team executives, head coaches, active and retired players.
At a special ceremony conducted during this year's party, Steinberg and DeNicola presented the 2018 awards to Minnesota Vikings General Manager Rick Spielman, Kansas City Chiefs Head Coach Andy Reid, Arizona Cardinals Wide Receiver Larry Fitzgerald, Indianapolis Colts Safety Darrius Butler, Retired San Diego Chargers Quarterback Ryan Leaf and Los Angeles Rams Legend Eric Dickerson.
"This years' honorees are an extraordinary group of individuals who have used their platforms in the NFL to change people's lives for the better," said Steinberg. "Cosmo and I are extremely proud to be able to recognize the important work they do and the sacrifices they make to give back to the community and make a difference."
DeNicola added, "These awards are a special testament to the heart and soul of some amazing people who happen to love football."
Continuing its long-held tradition of giving back through philanthropic causes, the Leigh Steinberg Super Bowl Party will donate proceeds from the event's silent sports memorabilia auction to the non-profits supported by the Steinberg-DeNicola Humanitarian Award winners. In addition, the event served to host the third Brain Health Summit, exploring research and solutions for the growing epidemic of concussion-related injuries.